About William Evans Cabinetmaker
Home
About William Evans Cabinetmaker
William Evans Cabinetmaker
Quality work, quality sustainable materials and customer satisfaction - these are the watchwords of William Evans, Cabinetmaker. For any craftsman or artisan furniture maker ensuring that customers come back, and are happy to recommend you to their friends and colleagues, is the only way to guarantee continued success. William Evans, Cabinetmaker has now enjoyed more than 16 successful years hand crafting and making fine bespoke furniture pieces and fitted furniture for homes in and around Saddleworth as well as Oldham, Tameside and Greater Manchester.
William Evans started out more than 20 years ago studying all aspects of furniture making at MANCAT before specialising in advanced furniture making. After going on to work making pine and timber furniture for four years, William set up his own business designing and hand making both bespoke freestanding furniture and fitted furniture.
This extensive experience is what William Evans Cabinetmaker draws on to ensure that when undertaking a fitted furniture project or creating a unique piece of freestanding bespoke furniture for you, you will be getting the highest quality work, the best quality materials and a guarantee of customer satisfaction.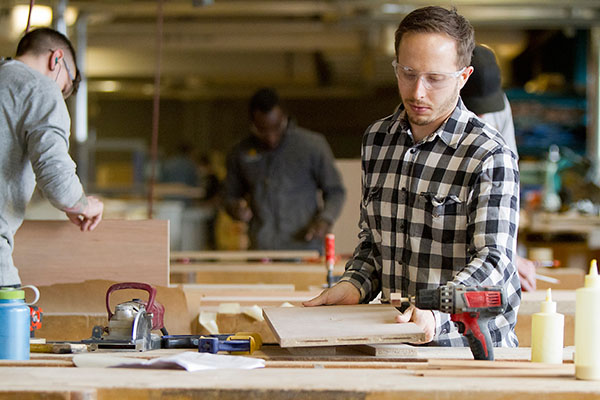 William Evans • fine furniture maker
Specialising in creating unique custom built, bespoke, freestanding and fitted furniture for every room in the home
For bespoke free standing furniture
When you commision a freestanding bespoke piece of funiture from cabinetmaker William Evans, you're creating a family heirloom for the future. Designed and made for you individually using ony the finest responsibly sourced materials, each unique freestanding piece of furniture can be made in our workshop avoiding the disruption to your home that fitted furniture unavoidably creates.
For hand made fitted furniture
When you choose William Evans to design and craftsman build your fitted furniture you're creating a unique style to enhance your room.
Studies and libraries; fitted bedrooms; alcoves; understairs areas; are all hand crafted in solid, responsibily sourced wood such as oaks, ash, beech, iroko and reclaimed materials such as pitch pine - and if you prefer a painted finish; tulipwood.
For restoration projects
Funiture restoration can be expensive but if you've an irreplaceable family heirloom that's been damaged or maybe a picked up a bargain at auction, restoration can often be the only option.
If you have a restoration project William Evans cabinetmaker can source timbers, match colours and finishes wherever possible and bring an old or damaged piece of furniture back to life for future generations.
Suzanne Troop

Greenfield

The cupboard and shelving unit Willam made for us was perfect and coordinated exactly with an existing piece. On time, on budget, great quality - and William was always a very tidy worker.